SCREEN SHOTS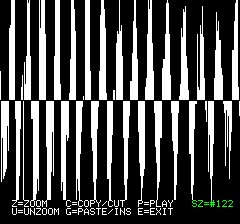 DETAILS
DENIS BONFIELD produced this utility for use with 8 bit Sample Playing. Although the ORICs sound chip can only play 3 channel 4 bit, if all three channels are combined, a resolution near to 8 bit can be obtained. The utility came on an OUM DISC and a WORDSPEED document holds the instructions. A rather natty little utility.
RETROSPECT
Although the utility produced near 8 bit samples, the Oric was not quite up to it on the speed front. Therefore the Sample tended to lose some clarity. IMHO, 4 Bit samples sound better if only because they are generally played at the higher frequency.
FEATURES

8 bit sample emulation on playback.

Fairly comprehensive Editor

50% BASIC

50% MACHINE CODE
CONTROLS
WORDSPEED DOCUMENT ON DISC
DOWNLOAD

TO LOAD IT
BOOT DISC
or SAMPLER.COM
EXTRAS
4 Demonstration Samples on Disc.