SCREEN SHOTS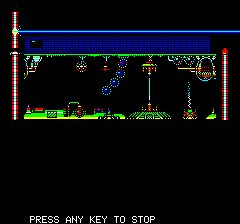 DETAILS
Conditional Colour Smooth X-axis Scroll. That is what the abbreviation stands for.
The Colourful HIRES image will actually smooth scroll to the left indefinately or until E is pressed.
Notice that a blank column exists to the far left to catch the colour attributes to its right before they reset to the default!
RETROSPECT
I had intended to make a game out of this one. The scrolling though proved too hazardous with all the intricate Colour attributes scrolling aswell.
How could one effectively map such a field with all the differing colour attributes effecting the rest of the line!!?!
FEATURES

Full Colour Scrolling

Zero attribute clashing

Silky Smooth Scrolling

Conditional Scroll (Skips blank areas)
5% Basic
95% Machine code
CONTROLS
E TO QUIT (END) TO BASIC
DOWNLOAD

TO LOAD IT
BOOT DISC
or CCSXS.COM
HINTS
PROVE ME WRONG AND WRITE THE FULL GAME!