SCREEN SHOTS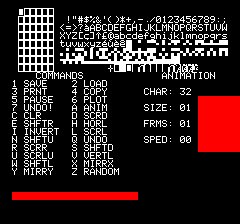 DETAILS
CHED90 is a character Editor. One that i have used for everything from GAME graphics to Character Fonts.
It enables one to edit both ALT and STD character sets on the single Screen. It also has a mini-plot mode, animation editor and on-screen HELP menu. There are comprehensive manipulation commands such as Scrolling, Mirroring and Inverting.
FEATURES

Single Screen Interface

Full Commands at the touch of a key.

Save to DISC option saves both Screen and Charset

Comprehensive Commands
100% Basic
Controls
DOWNLOAD

8K
TO LOAD IT
BOOT DISC or Type CHED90 at prompt.
RELATED EDITORS
CD, OBED91, CHED2, BLOCKED