SCREEN SHOTS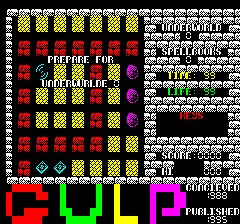 DETAILS
Guide GULP through 9 Levels of BOULDERDASH style mayhem but with keys to open their respectively coloured doors. The Objective of the game is to collect 2 Spell books at various locations around the maze before returning to the entry point to exit through a magically appearing Door!
RETROSPECT
When i wrote this one, way back in '88, it was far more BASIC than this version, being written completely in BASIC. I redesigned it, using a new set of LEVEL MAPS but was still dissatisfied with releasing it until i found some suitable Music and Sound Effects to go with it. The Existing sound effects being very basic. I have not found a suitable track yet.
FEATURES

Full Colour Scrolling.

Devilishly difficult advanced levels.
80% Basic
20% Machine code
CONTROLS
¬ ­ ® ¯ TO MOVE AROUND, ESC TO RESTART LEVEL
DOWNLOAD

TO LOAD IT
BOOT DISC
or SONIX.DEM
HINTS
WATCH OUT FOR THE FALSE WALLS!