SCREEN SHOTS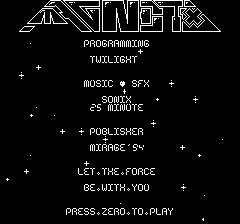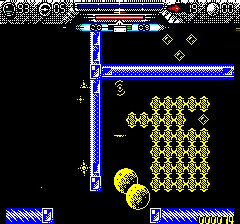 DETAILS

MAGNETIX, from the start, was designed for being a more in depth game. A game of tactics, of figuring out, of avoiding, of killing with thought. Each level, with its unique graphics, consists of an alien complex. Within this complex are Power Blocks. These are linked together with other blocks elsewhere in the arena. You must push them through the complex in order to form a 5 by 6 cluster (Rectangle). Once achieved, one can advance to the next level by passing through a "Vortex" (or Wormhole to star-trekkers).

In addition to this, Alien robots traverse the same space, following a logical path. E.g. Hit something, turn right etc.

There are also Crystals for charging up your four main weapons, Time capsules that boost your oxygen and the Vortex's may also take you to another part of the complex

.
RETROSPECT

My biggest project so far, although Wurlde could very much prove to be the largest. Anyway, i digress. MAGNETIX proved to be the most challenging game i have ever done. Bringing almost full screen parallax scrolling to the Oric was a feet within itself, although the finished product was almost without any flicker.

Although a good idea, the game suffered from a lack of colour especially in identifying power blocks.

Getting out of the Title screen and into the game was very slow, having to wait for the star-field to dissipate. This really put a strain on ones temperament.

It did however support a good range of Controls (4).

I remember the longest job was in creating all the graphics for each level. A mammoth task but quite enjoyable

.
FEATURES

Parallax 75% screen scrolling Game-play

32 Aliens on screen at any one time.

IJK/PASE Joystick or two alternative key Layouts.

10 Entry High-Score Table with Seperate High score section.

25 Minute Title Track

Intro and Outro Sections

3 Channel Sound Effects
5% Basic
95% Machine code