SCREEN SHOTS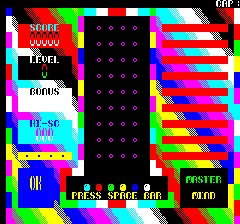 DETAILS
All the usual Mastermind features are here, including the pegs (In red to the right of the playing area).
RETROSPECT
Released on the OUM Disc, this little game was not really understood. Although colourful, the game may have been a little ambiguous as far as game-play went.
A good conversion though IMHO, especially when one realises this is 100% BASIC programming
FEATURES

Colourful Screen

Full Emulation of the popular board game

Title Tune
100% Basic
0% Machine code
CONTROLS
¬ ¯ ­ ® To Move around, space bar to select and drop coloured peg.
DOWNLOAD

44K
TO LOAD IT
BOOT DISC
or MASTER.COM
HINTS
Think!