SCREEN SHOTS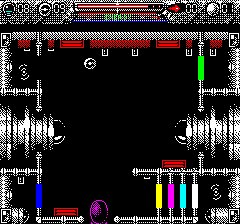 DETAILS
This early version features a "Not seen in game" interconnecting bonus level. You must get to the VORTEX in the bottom right corner in order to finish the BONUS screen.
You only have a short time scale in which to complete the task. When the time runs out, the Bottom Magenta Sphere will begin to rise. Once it hits the top, the whole arena will blow!
Open the coloured gates by using the ceiling switches.
RETROSPECT
In Retrospect, not much to say except that I intended at this point to place a separate screen like this between every level. Unfortunately time was not on my side, and they were never finished in time.
FEATURES

Bonus Level not seen in released game

Smooth scrolling object in TEXT Mode

Frantic Action
5% Basic
95% Machine code