SCREEN SHOTS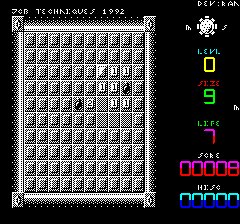 DETAILS
With variable map size and levels. Dare to tread on an unknown block. It might be a mine or just the ground. Visual indication to where the mines might be are given by numbers. These refer to the number of mines that surround (8 squares) it.
RETROSPECT
A nice little game and probably the best conversion IMHO.
I suppose it would have been nice if the playing area was a little bit more colourful and the abbreviations for the score-board might be considered a little inexcusable.
The game also didn't clear blank areas once found unlike the windows version of the game.
FEATURES

Sizable window
85% Basic
15% Machine code