SCREEN SHOTS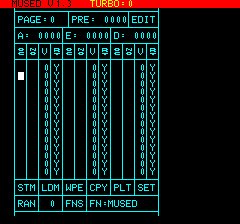 DETAILS
MUSED is a three channel Music editor for the ORIC ATMOS. Composition of music is through 3 separate lists as shown opposite.
Each entry consists of either a REST, NOTE or Volume setting (0-15).
Facilities include the Loading and Saving of Music from Disc or Tape, Copying across channels and pasting of repetitive values.
RETROSPECT
In Retrospect, MUSED is a good little editor, although missing out on many of the features found within SONIX and SOUND TRACKER, it was very flexible to use and tended to sound very expressive, although with the rather slow BASIC interface did not help with Editing the music. Also having to set the volume separately from the note proved very tedious and time consuming. The Musical Driver also tended to conflict with the space character memory.
FEATURES

7 Octave

Copy facilities

15 Volume levels
90% Basic
10% Machine code