SCREEN SHOTS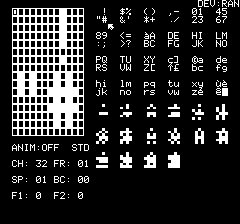 DETAILS
OBED91 IS a character editor but each 4 characters have been formed into a square of 12*16 pixels. Both ALT and STD character sets are editable with commands just as comprehensive as CHED90.
There is also a MINI screen Editor and an ANIMATOR that will animate a range of blocks during editing!
FEATURES

Single Screen Interface

Full Commands at the touch of a key.

Save to DISC option saves both Screen and Charset
100% Basic