SCREEN SHOTS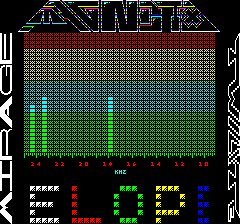 DETAILS
When MAGNETIX is completed, the OUTRO kicks in and although strictly speaking, it should only be accessable through completion of the game, i thought it worthy enough to be downloadable from this point.
RETROSPECT
The best demo i have done so far although it might have been nice to animate the scroller at the base of the screen to develop smooth movement rather than the somewhat crude character scrolling.
The MAGNETIX logo at the top of the page could also have been colorised more effectively.
FEATURES

Frequency Analyser

3 Channel Music from SONIX

Full colour scroller
0% Basic
100% Machine code