SCREEN SHOTS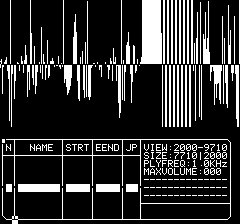 DETAILS
SED is a Sample EDitor. It is intended for use with Sound Tracker but can stand alone in its own right. It allows the editing and compilation of up to 16 samples in the 28K of available memory. Each sample may also have its associated Name, Start and End and Loop Addresses stored to a table. This table is then saved seperately. There are dozens of commands to Crunch the sounds and all samples are worked on at 8 bit resolution.
FEATURES

HIRES Inlay to represent WAVEFORM

All commands at the touch of a key.

Comprehensive range of frequencies and Commands
85% Machine code