SCREEN SHOTS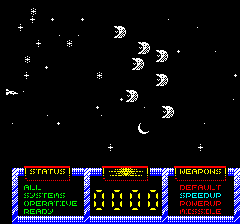 DETAILS
Guide your craft through dozens of different alien waves. Every wave completely destroyed will earn you a star which whizzes across the screen for you to pick up. Once collected, the weapon window will show the next weapon available and that you can select. These are combined to form an arsenal against the onslaught.
RETROSPECT
I wanted to produce a Shoot-em-up of classic proportions, a game that offered power-ups, something not seen before in shooting games.
The weapons though proved too confusing, and it was made far too easy to collect the best weapon before the game was properly entered.
There was also a glitch in the collision routine that caused the action to falter.
FEATURES

Power-ups for missiles, rockets etc.

Colourful Scoreboard

32 star smooth scrolling field
5% Basic
95% Machine code
CONTROLS

¬

­ ® ¯ To move around, space to Fire and ??? to Select Weapon
DOWNLOAD

TO LOAD IT
BOOT DISC
or SEU.COM
HINTS
CATCH THE WAVES AS THEY ENTER ONTO THE SCREEN