SCREEN SHOTS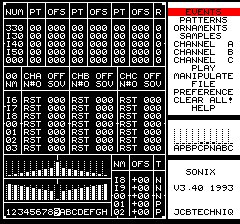 DETAILS
SONIX 3.2 is a three channel chip music Editor. Music is composed using a modular structure. Each musical entry may either be a NOTE or a REST value. Ornaments can then be set to act on each Note such as changing its volume or Pitch. Notes are composed within PATTERNS (up to 64 notes) and which PATTERN is used is determined by a list of EVENTS.
RETROSPECT
In Retrospect, SONIX 3.2 proved very memory consuming. Each tune, regardless of actual musical content consumed 60 sectors on disc (Around 16K).
The Editor though proved very flexible, and i produced literally dozens of tunes with it, and the format was so flexible, all future versions are backwardly compatable with the first!. Music can also be made into an executable with facilities shown below.
FEATURES

127 Notes (Over 10 Octaves)

Extensive copy facilities

Proper Tracker Environment.
30% Basic
70% Machine code