SCREEN SHOTS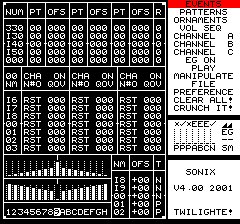 DETAILS
SONIX 4.00 is a three channel chip music Editor. Music is composed using a modular structure. Each musical entry may either be a NOTE, REST or Sample. Ornaments can then be set to act on each Note such as changing its volume or Pitch. Notes are composed within PATTERNS (up to 64 notes) and which PATTERN is used is determined by a list of EVENTS. In version 4.00 their is also the added control of the envelope generator as a virtual Tone source (Triangle or Sawtooth) and one of 5 Samples (Fixed Pitch 5Khz). Envelopes are set in the Volume Ornament whilst Samples replace the note in a pattern.
RETROSPECT
In Retrospect, SONIX 4.00 was a much improved version over any previous, although it does use the same old user interface and their is no dynamic control over IRQ speed, so the system (Whilst playing the tune) will play at 5Khz regardless of whether a sample is playing or not. This means that the player is not suitable for Basic programs where Music is required to be played concurrently.
FEATURES

120 Notes (10 Octaves)

Sample Channel

Envelope register as Saw/Triangle sound source

Extensive copy facilities

Proper Tracker Environment.
25% Basic
75% Machine code
CONTROLS
FULL MANUALS IN DOWNLOAD

DOWNLOAD

98K
TO LOAD IT
BOOT DISC
or MENU.COM
PLUGINS
DEMO MUSIC FILES
MAKE EXECUTABLE