SCREEN SHOTS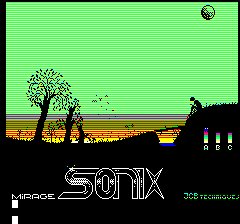 DETAILS
The Demonstration application for the SONIX 3 Channel Music Editor.
A HIRES screen as shown with little colour bars to indicate volume levels of the SONIX Demonstration music playing in the background.
At the start, the SONIX editor Screen is shown before booting into the music Demo and HIRES screen.
RETROSPECT
At the time, this was shown prior to the release of SONIX, actually only a few months before. The Demonstration piece was, at the time a good piece of Music although since then, Developments have seen far superior sounds and depths to SONIX music.
The Artwork was not taken from anything special, just felt right for the genre.
FEATURES

Music from SONIX

Colourful HIRES Screen

Multi-colour bars to indicate Volume Thresholds.
5% Basic
95% Machine code