SCREEN SHOTS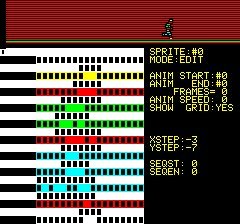 DETAILS
SPRITED was and probably still is in many ways intended for the main SPRITE editor for the fabled game WURLDE.
It allows for the editing of up to 127 sprites with full COLOUR and Attribute control. The Editor also has a comprehensive animation module that allows you to see a given Sprite move across the screen.
FEATURES

HIRES Split line Sprites

Up to 127 Sprites, each one consuming just 64 bytes.

Comprehensive on-board Animation Module
100% Basic