SCREEN SHOTS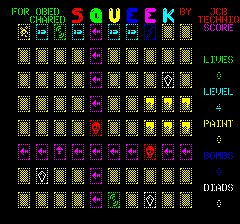 DETAILS
You are SQUEEK, a dinky little character whose world has been turned upside down by the DRABSTERS. They strangely enjoy removing all colour from the land, turning it to a horrible murky colour. It is your job to paint each screen with the paint pots that lye around the vicinity. You can also kill the DRABSTERS (Shown in red) by using a Bullet (Shown in cyan) on them!
The game covers 9 levels, each one being held within the BASIC program.
RETROSPECT
I am quite proud of this little game. Although completely in BASIC, it just went to prove what could be done in the language.
FEATURES

Screens full of colour

9 Levels (In program)
100% Basic
0% Machine code
CONTROLS

¬

­ ® ¯ To Move around
DOWNLOAD

42K
TO LOAD IT
CLOAD"SQUEEK1"
THEN RUN IT
HINTS
WATCH OUT FOR THE RED SKULLS