SCREEN SHOTS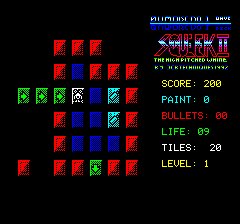 DETAILS
Again control SQUEEK, but this time over a colourful scrolling arena. 9 levels of further mayhem with bombs, teleports, transport systems and mind twisting puzzles that kept me up all night (and i wrote the damn thing!).
RETROSPECT

The only game so far to have a HIRES inlay that sits in the top right of the text screen. Not surprising really since the left hand side of the virtual HIRES screen is left wasted!
The scrolling was a bit disorientating at times during game play since the movement steps where 3 characters at a time!

I wish I had put some sort of Background star-field in it though just to emphasize the movement more

.
FEATURES

Scrolling screens full of colour

9 Levels (In program)

HIRES Inlay
75% Basic
25% Machine code