SCREEN SHOTS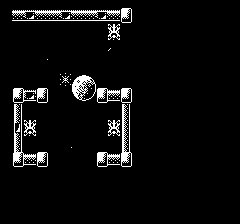 DETAILS
TECH was the very first MAGNETIX demo. Guide the star at the centre of the screen around the Parallax Backdrop. You can collect the Diamonds and push the balls around the arena but that is about it.
To exit from this demo, collide with an Alien ZUG.
RETROSPECT
This was the first demonstration of MAGNETIX and as such was coded with the idea of half the screen showing. At this time, i thought it was not feasible to have full screen parallax scrolling.
Also note the absence of the main ship and no animation.
FEATURES

Parallax Scrolling

16 aliens on screen

Sound effects
1% Basic
99% Machine code
CONTROLS
¬ ® ­ ¯ TO MOVE AROUND AND COLLIDE WITH ALIEN TO QUIT
DOWNLOAD

TO LOAD IT
BOOT DISC
or TECH.GME
HINTS
TRY TO CATCH ALL ALIENS BY BLOCKING THEIR PASSAGE.