SCREEN SHOTS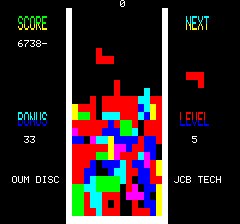 DETAILS
This was my version of TETRIS and the only English version of the Game. Not awfully good, but playable none the less.
There are also in existence French and German versions of TETRIS.
Need i say more?
RETROSPECT
A pretty poor version of the genre, TETRIS GB was still my first real attempt at machine code proper.
Though it lacked the quality of the other slick versions. I had intended to add music to the game but once I realised the memory constraints of SONIX, I gave it up.
FEATURES

Full of colour!
10% Basic
90% Machine code
CONTROLS

¬

® To Move from side to side, ­ to change shape and ¯ to drop shape.
DOWNLOAD

45K
TO LOAD IT
BOOT DISC or TETRISGB.COM
HINTS
The difficulty factor increases logarithmically!