SCREEN SHOTS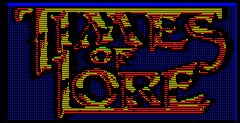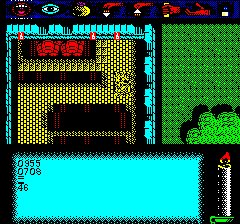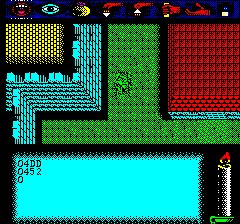 DETAILS
This is/was the new project. Full colour scrolling Arcade Adventure game conversion taken as best from the Commodore 64 version, since the rest (Even Amiga / PC / AtariST versions) are crap! Based upon a new graphic engine that extends the player map to colossal proportions in Text mode using a 3 tier mapping method (Characters/Blocks/Zones/Map), banked character sets, full colour and just 64 characters. The game also features Fully masked Sprites, Realistic Animation of Sea, Rivers, Lakes, etc, first use of 'SID' sounds in the title and storybook sections of the game.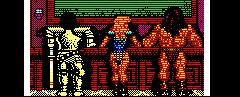 RETROSPECT
A massive project that I have undertaken. In some ways, more ambitious than Wurlde!! Currently working on other projects (Eeek!) but will return soon. The screenshots are taken from various aspects of the game, and do not neccasarily appear in the Demo below which is just an early version of the game engine. This game will use all 64K of the Oric, but because of time constraints the demo does not contain the top 16K so sprites will appear corrupted.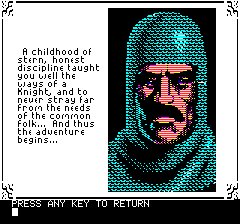 FEATURES

Full colour Scrolling in Text Mode

Full masking on all sprites

conversion of highly acclaimed C64 game

Intro, Map & Storybook sections with 'SID' Music
100% Machine code
CONTROLS

Cursor keys to move, Escape to end
DOWNLOAD

TO LOAD IT
CLOAD"TOLDEMO"

HINTS
The Sea is full of bugs!