SCREEN SHOTS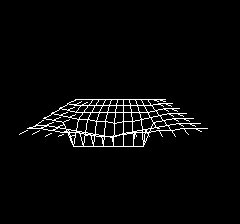 DETAILS
Not alot of playability in this demonstration.
You can move around the scrolling landscape and can even redesign depths by breaking into the BASIC program and altering the DATA statements. Be careful though, not to mistake the Code for depths!!!
RETROSPECT
VIRUS was originally released on the ARCHIMEDES. I remember seeing it at college all those many years ago and was staggered then. It has also appeared on most other formats, most noticeably for me on the Spectrum and AMIGA. Essentially, the view is true perspective although with a fixed camera angle. This allows the scrolling landscape to move at a faster rate than other 3D engines of this genre.
FEATURES

Unique angle of true perspective

Design your own landscapes
50% Basic
50% Machine code
CONTROLS
¬ ® ­ ¯ TO MOVE AROUND AND E TO QUIT (END) TO BASIC
DOWNLOAD

TO LOAD IT
BOOT DISC
or VIRUS.COM
HINTS
BE CAREFUL (IF DESIGNING) NOT TO EXCEAD SCREEN HEIGHTS