SCREEN SHOTS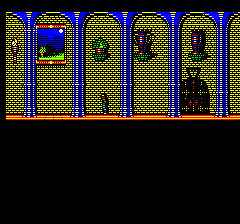 DETAILS
This is the only Demo that was ever produced for the fabled WURLDE game.
Control Lucien left and right and that is it!
It demonstrates the use of the masking and shadowing techniques that I hoped would be employed in the finished game.
RETROSPECT
In Retrospect, I didn't think i'd find this Demo again. Anyhow, the actual main character sprite consumes just 64 Bytes of memory for each frame of animation and also effects only the even lines of the screen. This is to allow the background to fill up the odd lines.
FEATURES

Full colour screen

Full smooth animated and masked character

HIRES Demo
5% Basic
95% Machine code
CONTROLS

¬

® TO MOVE AROUND AND ESC TO EXIT DEMO
DOWNLOAD

TO LOAD IT
BOOT DISC
or WURLDE.COM
HINTS
DO NOT PASS BEYOND THE SCREEN BORDERS!