SCREEN SHOTS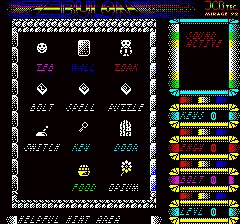 DETAILS
You play ZEBULON, and must guide him to safety through 9 rooms.
The exit out of each room is hindered by closed doors that are either opened through the usage of a series of switches or with a key. On the way, ZEBULON must collect all the puzzle pieces in order to get the "Final picture" at the end.
RETROSPECT
In retrospect, the biggest flaw in the game was the animation of the central character. Movement was fixed to every 2 character steps and the crudeness of movement did not help in game-play.
FEATURES

3 Channel Effects

Title Tune

HIRES Inlay
75% Basic
25% Machine code
CONTROLS

¬

­ ® ¯ To Move around
DOWNLOAD

50K
TO LOAD IT
BOOT DISC
or ZEBULON.GME
HINTS
READ THE HELPFUL HINT AREA!