SCREEN SHOTS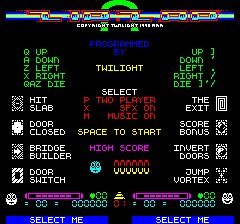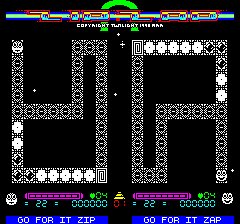 DETAILS
Ok, ZipNZap is a one or Two player game (Selectable from the Menu). Guide Zip through 15 levels (15 more for two player) clearing the Door tiles. Each tile may need to be passed over once, twice or thrice before they disappear. Also on the way, use Bridges to jump a gap, switches to close open doors and more besides.
RETROSPECT

ZipNZap culminates all the techniques i have acquired and developed over the years. This game has been my proudest moment so far.

The game also contains the Level Editor allowing the existing 30 levels to be replaced with 30 user levels.

The game is available on Disc as well as Cassette.
FEATURES

Simultaneous 2 or 1 Player Game-play

Simultaneous Sample Sound Effects

Smooth Scrolling, Fully shadowed and masked Sprites

20 Minute 3 Channel Sample Music Title Track

Hiscore & Hires Inlay

48K Game !

Level Map Editor Including instructions
0% Basic
100% Machine code