SCREEN SHOTS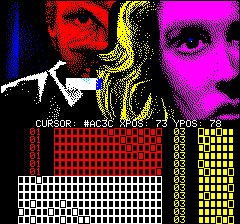 DETAILS
HIDE is a Hires/Inlay Dynamic Editor for the ORIC ATMOS. It does'nt come with any line or circle drawing commands, no fancy FILL or LORIGRAPH COPY style commands, but does allow superlative control over Attributes. The perfect accompaniment to SIMON GUYARTS PC>HIRES convert utility to add colour and other attributes to a screen or to just play around with the ORIC screen at BIT or BYTE level.
FEATURES

Allows access to the Whole HIRES screen.

Full screen View at the touch of a button.

Full DISC/CASSETTE support
60% Machine Code
Controls
DOWNLOAD

64K
TO LOAD IT
BOOT DISC or Type HIDE at prompt.
RELATED EDITORS
LORIGRAPH, EDITOR, EDITOR2