SCREEN SHOTS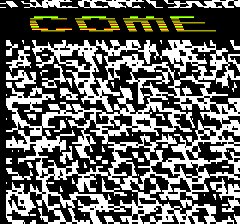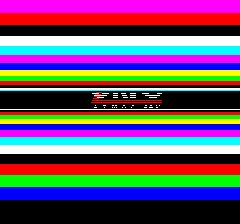 DETAILS

Just a couple of Demonstrations that have appeared at one meeting or another over the years. Other Demonstrations exist, although these generally follow a new piece of software coming out.

The First Demo was for the 1992 ORIC Meeting in Aylesbury, Bucks, GB. What you cannot see here is the smooth scrolling that was done on the message at the top and the interweaving pattern covering the rest of the screen. The Music in the background of this Single part demonstration was taken from

MUSED, the only decent Musical Editor at that time for the Oric.

The Second Demonstration was used on an OUM cover disk and this time scrolls a HIRES bitmap behind a Parallax foreground.
RETROSPECT
At the time, these Demonstrations were rather good, if i may say so myself. I was at the experimental stage of development. Trying out new techniques, new ideas to see what the old machine was capable of doing in real time!
I still return occasionally to the first demonstration to listen to the music from MUSED.
FEATURES

Smooth Scrolling

3 Channel Music from MUSED

Full Screen Activity
30% Basic
70% Machine code